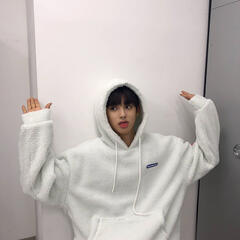 @𝘀𝘁𝗮𝘆𝗶𝗻𝗴𝘀𝗮𝗳𝗲𝗼𝗻𝗹𝗶𝗻𝗲
𝟲 𝗉𝗈𝗌𝗍𝗌 𝟰𝟯 𝖿𝗈𝗅𝗅𝗈𝗐𝖾𝗋𝗌 𝟴𝟳 𝖿𝗈𝗅𝗅𝗈𝗐𝗂𝗇𝗀
𝗯𝘆 𝗮𝘁𝗿𝗶𝗻𝗮: 𝗌𝗍𝖺𝗒𝗂𝗇𝗀 𝗌𝖺𝖿𝖾 𝗈𝗇 𝗌𝗈𝖼𝗂𝖺𝗅 𝗆𝖾𝖽𝗂𝖺 𝖺𝗉𝗉𝗌. 𝖼𝗅𝗂𝖼𝗄 𝖺𝗇 𝗂𝗆𝖺𝗀𝖾 𝗍𝗈 𝖻𝖾 𝖽𝗂𝗋𝖾𝖼𝗍𝖾𝖽!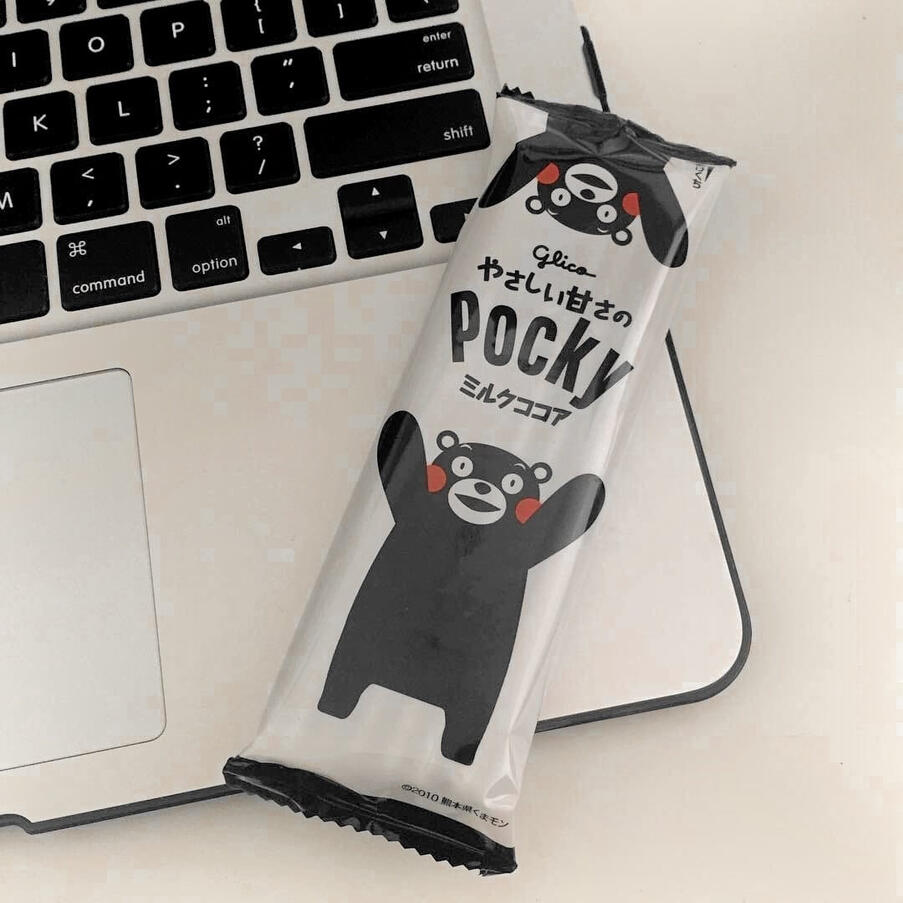 staying safe on instagram
Instagram is a popular photo-sharing social media that's used by many youth, adults and elders alike to connect with your friends, family and idols! Although it's fun to share memes, videos and texts with your followers and friends, Instagram unfortunately is a very popular app for people with the wrong intentions.
firstly, the key to staying safe on instagram is to keep your account private. having your account on private ensures that only people you know and accept have access to your photos. if you aren't private, predators, people you do not know and hackers may be able to use your photos with ill intent.secondly, by not using hashtags on your posts, you can make certain that your posts won't be publicized. even if your account is private, hashtags show your posts publicly if you search for them. so, do not use hashtags on your post. if you use hashtags, all of instragram has access to your photos that are meant to be kept private. people can use it to catfish, post it on other websites, and do much worse. thirdly, you can stay safe on instagram by not clicking any links unless they are from official accounts or family members. hackers and predators use fake, fishy links disguised as youtube videos or instagram links in order to gain your ip address which can then lead to them knowing your house, your name aswell as your family's name, your school and other associations.
another way to stay safe on instagram is picking a strong password aswell as two factor authentication. this makes it hard for hackers to gain access to your account, and even if they have your password, having two factor authentication means that nobody except yourself knows the answer to the question, stopping hackers from getting in.
finally, report any abuse, bullying, harassment or impersonation. If you see something questionable or a post you believe violates the instagram guidelines, or makes you feel uncomfortable and threatened, report it! Here's how:To report a comment, swipe to the left and tap the arrow.
To report a specific post or an account, tap the "…" menu and then "Report."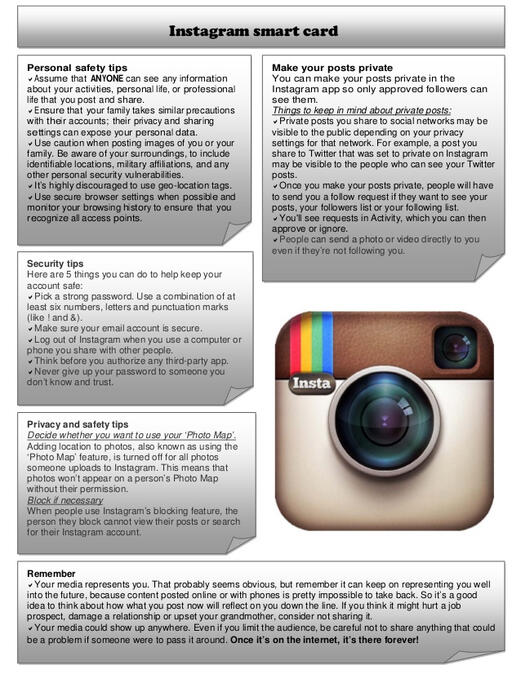 staying safe on twitter
Twitter is a fun, popular social media app wherein the user can post short 'tweets' expressing their thoughts, feelings, or discoveries.
although twitter is a fun way to see others' tweets and interact with friends, it can also be extremely dangerous if online safety isnt exercised. thankfully, there are many ways to stay safe on twitter without having less fun!
in order to keep your privacy and your identity safe on twitter, don't display your name, age, school or other identifiable facts about yourself. tweeting something which reveals your personal details or having your personal information on your account is a surefire way to be doxxed, harassed or tracked down by predators or other people with nefarious intentions.
A way of ensuring privacy and online safety is to be wary of tweets you make. Know that once you hit 'tweet', that is on the internet forever. By being wary and conscious of what you post, you can be certain that no one will spread harmful, slanderous or otherwise regretful screenshots later down the road.
A third way of staying safe whilst using twitter is to always log off if you're using a shared computer. If you stay logged on after using a shared computer, strangers may have access to your account, and may be able to see private posts and messages. This is unsafe for personal information maybe exposed to unwanted / unknown people aswell as there's a chance the person in question may dox or leak your personal details.
Finally, you can stay safe on twitter by turning off location settings so your location and address won't be visible on your account. If your location settings are on, you run a risk of being doxxed or tracked down by malicious people or predators, and endangering your safety.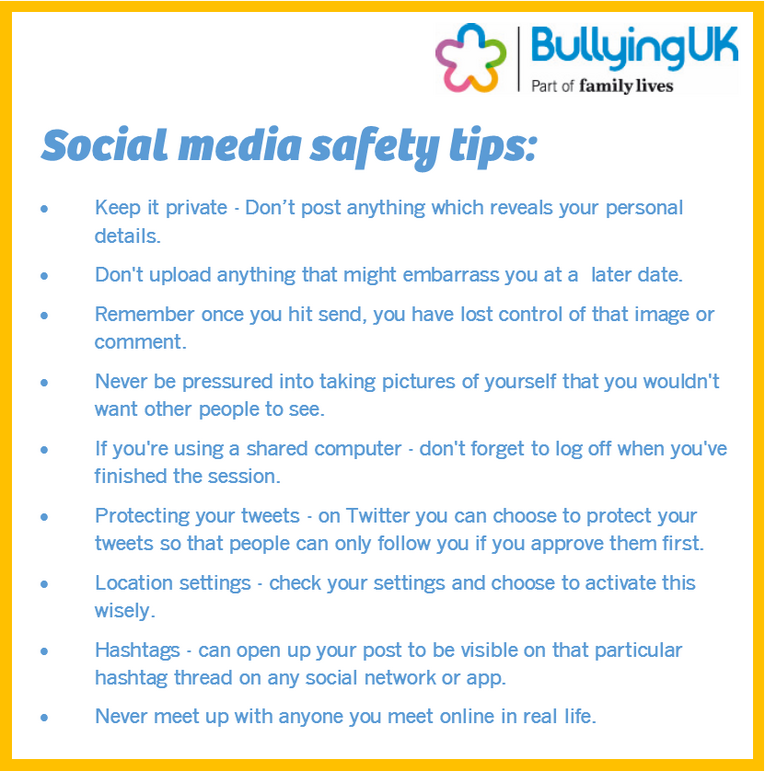 staying safe on snapchat
snapchat is a fun app wherein you can add friends and send selfies, videos and text messages with fun filters. although it may be fun to send funny videos of yourself to your friends, it is also unfortunately very easy for predators or unwanted people to have access to your videos or selfies.
Don't add people you don't know to your friends list. Sometimes Snapchat will recommend other users based on mutual friendships between them and one of your best friends. Since Snapchat can be a very personal experience, stick to adding the people you know you can trust. If you add someone you don't know, chances are they have malicious intent, and they now have access to your face and possibly even your voice, which can be leaked or used in ways you wouldn't want it to be such as in a sexual or violent manner.
Block strangers who try to contact you. If someone you do not know attempts to contact you or follow you, don't hesitate to block them. Repeated attempts at contact from people you've ignored can count as harassment. Usually these people are predators or dangerous people to begin with for they don't respect boundaries - and do not feel bad for blocking them.
Don't send inappropriate snaps. Even though you trust the friend or friends who you're snapping, you have to assume that anyone can see the snap as soon as it has been opened. Just like twitter, when you press send - you lose control of the photo or message. The person can forward it or do with it as they like without your consent and if you're a minor, it counts as child pornography and both you and everyone involved can be in great danger.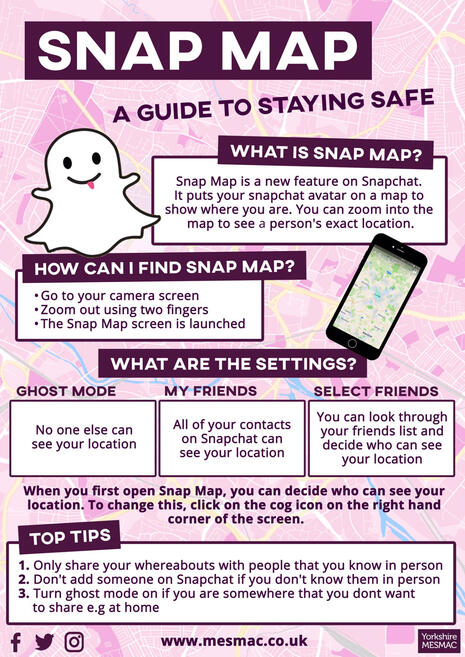 staying safe on facebook
facebook is arguably one of the most popular social media sites wherein you can connect with friends, post your thoughts, send photos, share memories and join groups with people of similar interests! However, with the popular use of adding mutual friends and joining groups, you run the risk of being followed by predators or bad people that you would otherwise ignore.
Be vigilant in watching for suspicious activity in your News Feed, your Wall and your Inbox. Never, ever click suspicious links. They can often look innocuous, even enticing – e.g. "Hey come look at your photo on this blog." Before you click, look closely! Do you recognize the blog? Just like instagram, links may be disguised and clicking on them might give away your ip address or may just be links to malicious sites. Always be vigilant if you see links that look suspicious.
Remove any friends immediately who post suspicious links on your wall and/or in emails. One of the most fool-proof ways of staying safe on facebook is removing any friends that have been involved with suspicious groups, people or actions. You should also remove friends who send you app requests or links to posts, groups or otherwise other forms of media that may be inappropriate. such as nude or sexual media, violence or gore. To remove a friend who posted suspicious links on your wall, for example, right click their name from the wall post, open in a new tab/window, scroll towards the bottom right and click "Remove from Friends."
Use a hard-to-guess password. Don't use the same easy-to-remember password on all your social networking sites. For the ones you use daily – like Facebook and Twitter – make the passwords obscure with 8 characters or more using a mixture of upper, lower, numbers and characters. The more obscure the better. Just like instagram, use two factor authentication and make sure your password is not commonly used such as '123456' or your name.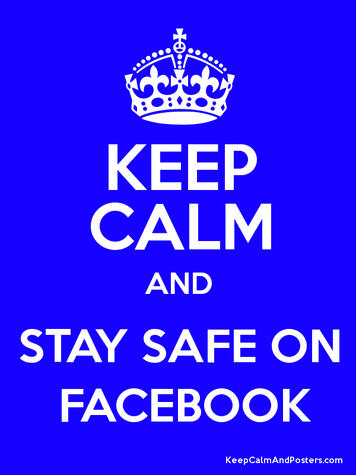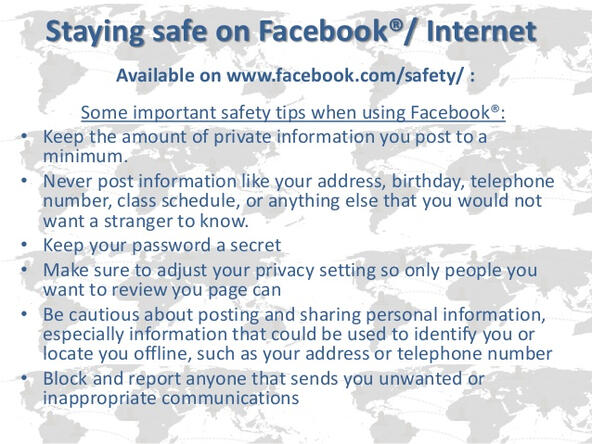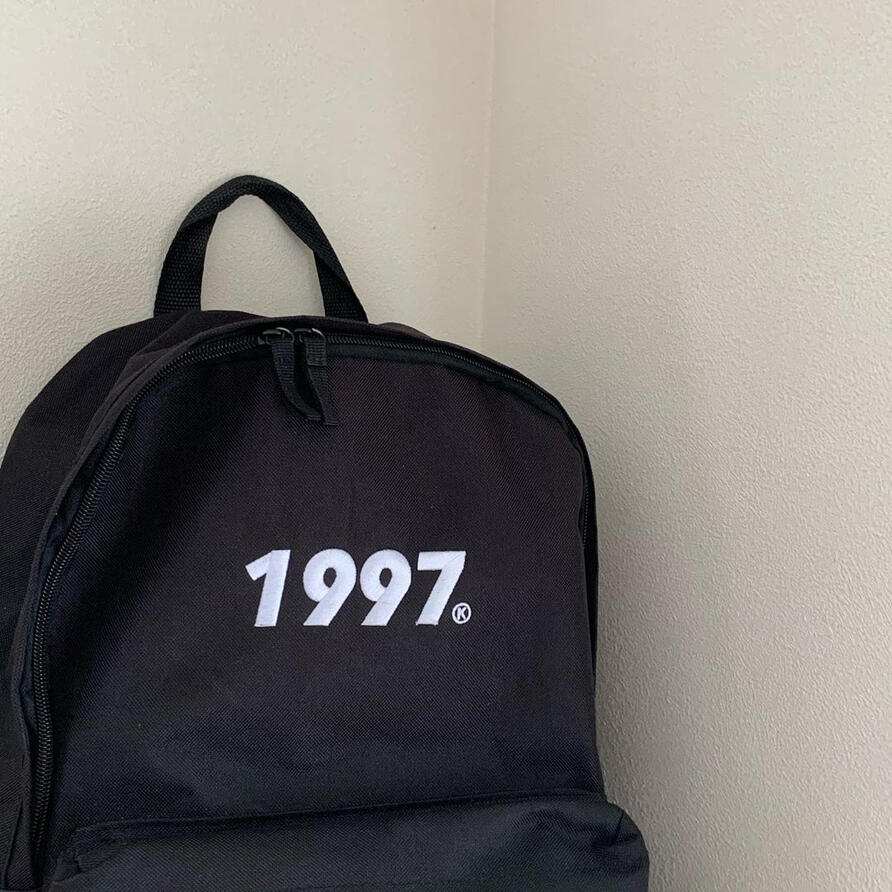 staying safe on tumblr
tumblr is the most popular website for blogging, users can create blogs dedicated to their favourite celebrities, photos, cultures, and much more. But, it is still a social media website where many are exposed to dangerous, inappropriate or otherwise unwanted media.
Always keep your blog private if you don't want everyone to see it.
On tumblr, you can make your blog invisible to people who aren't already following your activity. They won't be able to find it if they search for it on Tumblr, and even if they try to find it with a regular search engine, Tumblr will prevent them from accessing it by acting like your blog doesn't exist.

Know that once someone shares something that you've posted, it's out of your control. You're not in control of what other people do with their accounts, and it's usually difficult to get Tumblr's administrators to take down content that you don't want shared faster than other people can share it.

So before you post something on Tumblr or any other social space on the Internet, stop and think: would I be okay with letting my friends see this? More importantly, would I be okay with letting their friends see this?
Don't be afraid to report content that's innapropriate! If you see a post while browsing or searching that you don't want to see or don't think belongs on Tumblr, you can click the three dots beside it and then click Flag This Post. Then, fill out the form that appears to tell Tumblr what the problem with the post is. Reporting posts help to both make tumblr and your online time more safe and is key in being safe when using social media.
block people who are harrassing you
If someone is harassing you, threatening you, or otherwise making you uncomfortable, you can block them. By blocking them, they cannot find you, follow your, send you messages or questions, see, like or reblog your posts. You can even block anonymous users; Tumblr will block the Internet address that they were using, instead. Note that if you have multiple blogs, you must block individual users for each one.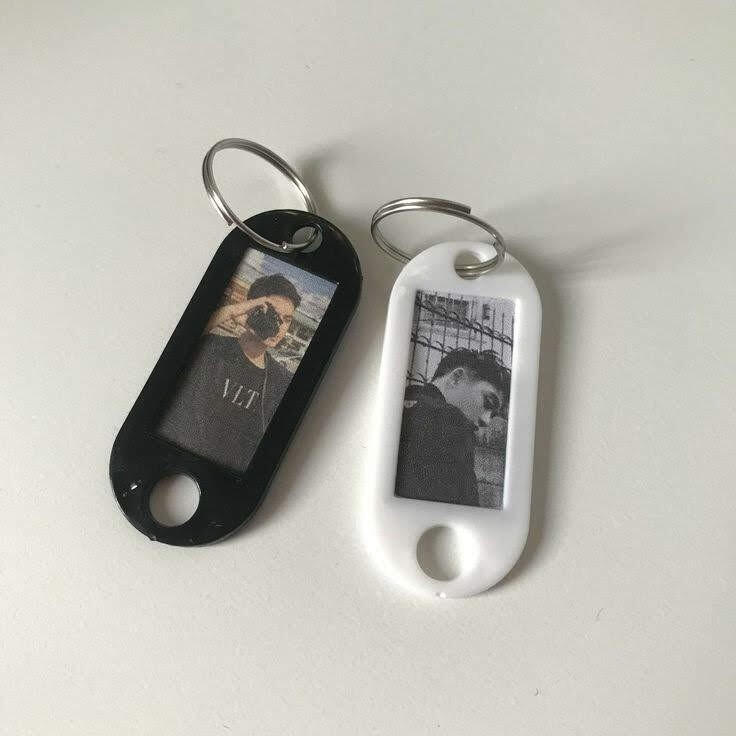 staying safe on youtube
Youtube is a popular social media where users can post, view, comment, like and share eachother's content.
don't post videos with your uniform or other indetifiable pieces. A lot can be learned from a school uniform badge in your photos or videos. Worst case scenario (so lets not panic here) someone could know your name, and enough details from your videos about you to turn up at the school. It also tells them where you will be at the end of the school day to follow you home.
don't film directly infront of your house. If you film infront of your house and post it on youtube, you can be putting both you, your family and possibly even your neighbours in danger. By knowing what the outside of your home looks like, all a stranger needs to work out is your postcode or street name to find you on Google earth. This, in the best case scenario, ends with a weirdo knowing your house. Worst case scenario, someone threatens or actually follows through with physical harm.
Use YouTube's privacy features YouTube has features to help you limit who can see the videos you post. Protect your privacy by setting personal videos to 'private' or 'unlisted.'
Visit their Privacy and safety settings page to explore some of the tools available to help you manage your experience on the site. This helps to keep your videos private, and makes it much harder for strangers to access your content.